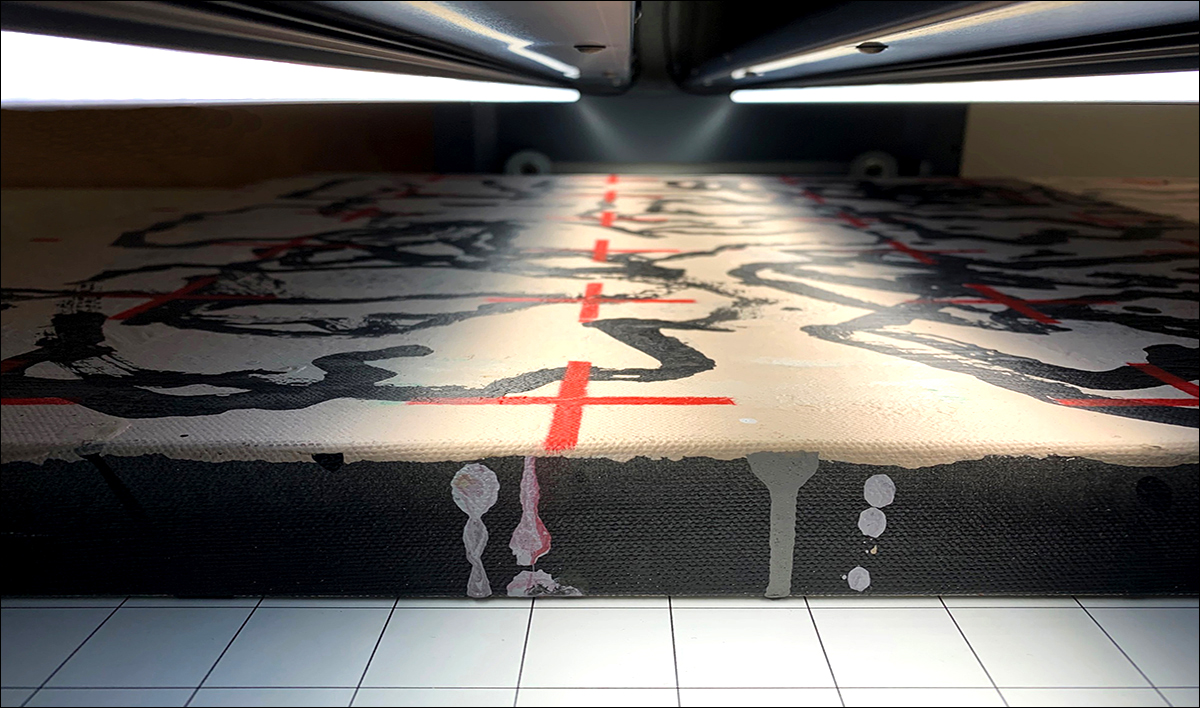 Flatbed scanning of a painting by Ed Moses
Our Fine Art Scanner is a WideTEK ®36 ART. It allows contact-free scanning of 

oil or acrylic paintings, watercolors,
mixed media collages,

charcoal, or pastel drawings at 300 or 600 ppi from original artworks up to 36″ x 60″.
" Which resolution do I need? "
This depends on your end use of the scan. The options below should give you an idea of what you need.
If you plan to enlarge your final prints beyond the original size of the artwork, then we suggest using 600 ppi.
Need images for your website? 72 ppi should be good to go.
Print Resolution // 300 ppi
Most of the time, 300 ppi will be best for printing purposes.
Need to enlarge your image well beyond its actual size? If so, this option may be best for you.
Need something small to be blown up extra large?
| | | | | | | | | | |
| --- | --- | --- | --- | --- | --- | --- | --- | --- | --- |
| Size | 6" | 10" | 14" | 18" | 22" | 26" | 30" | 34" | 36" |
| 6" | $25 | $30 | $35 | $40 | $45 | $50 | $55 | $60 | $65 |
| 10" | $30 | $35 | $40 | $45 | $50 | $55 | $60 | $65 | $70 |
| 14" | $35 | $40 | $45 | $50 | $55 | $60 | $65 | $70 | $75 |
| 18" | $40 | $45 | $50 | $55 | $60 | $65 | $70 | $75 | $80 |
| 22" | $45 | $50 | $55 | $60 | $65 | $70 | $75 | $80 | $85 |
| 26" | $50 | $55 | $60 | $65 | $70 | $75 | $80 | $85 | $90 |
| 30" | $55 | $60 | $65 | $70 | $75 | $80 | $85 | $90 | $95 |
| 34" | $60 | $65 | $70 | $75 | $80 | $85 | $90 | $95 | $100 |
| 38" | $65 | $70 | $75 | $80 | $85 | $90 | $95 | $100 | $105 |
| 42" | $70 | $75 | $80 | $85 | $90 | $95 | $100 | $105 | $110 |
| 46" | $75 | $80 | $85 | $90 | $95 | $100 | $105 | $110 | $115 |
| 50" | $80 | $85 | $90 | $95 | $100 | $105 | $110 | $115 | $120 |
| 54" | $85 | $90 | $95 | $100 | $105 | $110 | $115 | $120 | $125 |
| 58" | $90 | $100 | $110 | $120 | $130 | $140 | $150 | $160 | $170 |
| 60" | $100 | $105 | $110 | $115 | $120 | $125 | $130 | $135 | $140 |
| | | | | | | | | | |
| --- | --- | --- | --- | --- | --- | --- | --- | --- | --- |
| Size | 6 | 10 | 14 | 18 | 22 | 26 | 30 | 34 | 36 |
| 6 | $40 | $50 | $60 | $70 | $80 | $90 | $100 | $110 | $120 |
| 10 | $50 | $60 | $70 | $80 | $90 | $100 | $110 | $120 | $130 |
| 14 | $60 | $70 | $80 | $90 | $100 | $110 | $120 | $130 | $140 |
| 18 | $70 | $80 | $90 | $100 | $110 | $120 | $130 | $140 | $150 |
| 22 | $80 | $90 | $100 | $110 | $120 | $130 | $140 | $150 | $160 |
| 26 | $90 | $100 | $110 | $120 | $130 | $140 | $150 | $160 | $170 |
| 30 | $100 | $110 | $120 | $130 | $140 | $150 | $160 | $170 | $180 |
| 34 | $110 | $120 | $130 | $140 | $150 | $160 | $170 | $180 | $190 |
| 38 | $120 | $130 | $140 | $150 | $160 | $170 | $180 | $190 | $200 |
| 42 | $130 | $140 | $150 | $160 | $170 | $180 | $190 | $200 | $210 |
| 46 | $140 | $150 | $160 | $170 | $180 | $190 | $200 | $210 | $220 |
| 50 | $150 | $160 | $170 | $180 | $190 | $200 | $210 | $220 | $230 |
| 54 | $160 | $170 | $180 | $190 | $200 | $210 | $220 | $230 | $240 |
| 58 | $170 | $180 | $190 | $200 | $210 | $220 | $230 | $240 | $250 |
| 60 | $180 | $190 | $200 | $210 | $220 | $230 | $240 | $250 | $260 |
| | | | | | | | | | | | | | |
| --- | --- | --- | --- | --- | --- | --- | --- | --- | --- | --- | --- | --- | --- |
| Size | 6 | 8 | 10 | 12 | 14 | 16 | 18 | 20 | 22 | 24 | 26 | 28 | 30 |
| 6 | $53 | $57 | $60 | $65 | $68 | $72 | $75 | $80 | $83 | $87 | $90 | $95 | $98 |
| 8 | $57 | $60 | $68 | $72 | $75 | $81 | $87 | $98 | $102 | $105 | $113 | $120 | $120 |
| 10 | $60 | $68 | $75 | $80 | $83 | $90 | $98 | $110 | $113 | $120 | $128 | $132 | $135 |
| 12 | $65 | $72 | $80 | $87 | $95 | $99 | $110 | $120 | $128 | $135 | $147 | $150 | $188 |
| 14 | $68 | $75 | $83 | $93 | $105 | $113 | $120 | $132 | $143 | $150 | $165 | $180 | $195 |
| 16 | $72 | $83 | $87 | $101 | $113 | $123 | $135 | $150 | $165 | $165 | $195 | $203 | $218 |
| 18 | $75 | $87 | $98 | $108 | $120 | $135 | $150 | $165 | $180 | $195 | $210 | $225 | $240 |
| 20 | $80 | $95 | $105 | $119 | $131 | $147 | $158 | $180 | $195 | $188 | $230 | $240 | $255 |
| 22 | $83 | $98 | $113 | $128 | $143 | $158 | $180 | $195 | $225 | $233 | $248 | $263 | $278 |